The library closed on March 19 in response to Nationwide guidelines.  All programs and meetings scheduled are cancelled/postponed from March 19 until further notice. We are providing curbside services, virtual programming, phone and email assistance.
More information follows: 
What Can You Do?
Wash your hands thoroughly and often, stay home with a good book if you are experiencing any signs or symptoms and be social at a distance.  Remember you can access digital materials using your library card through MORE & Libby.
What is the SCFPL doing?
The St Croix Falls Public Library is providing low contact curbside services, virtual services, phone and email services. Staff is in the library Monday through Friday and available to take your phone call or email. We are now offering printing from your device using princh. Find out more at princh.com.
Our goal is to keep library staff and patrons safe from communicable disease and to mitigate the occurrences of unnecessary exposure and spread of infectious disease. We will continually evaluate the situation.
Meeting room use and programming is cancelled during this time.
Library materials returned during this time will not be processed immediately, however any late fees will be waived.  You may return items through the return slot. They will sit for up to 72 hours before being processed.
Librarians will be working on curbside and special projects — available to answer the phone 715-483-1777 or email scflibrary@scfpl.org, or use curbside@scfpl.org if you have questions about accessing the digital collection, questions on summer reading programming, or have special circumstances and in need of assistance.
New library policies relating to Epidemics and Covid-19:
Epidemic and Library Health Emergency Policy
Covid Specific Public Library Personnel Policy
Covid Specific Public Library User Policy
Please practice kindness and common sense during this time of uncertainty.
Thank you
Polk County Data Dashboard: 
This dashboard provides real-time information, adapts over time, and is readily available. Be sure to bookmark this link to view Polk County related Covid-19 data at your convenience: https://arcg.is/1bmeOm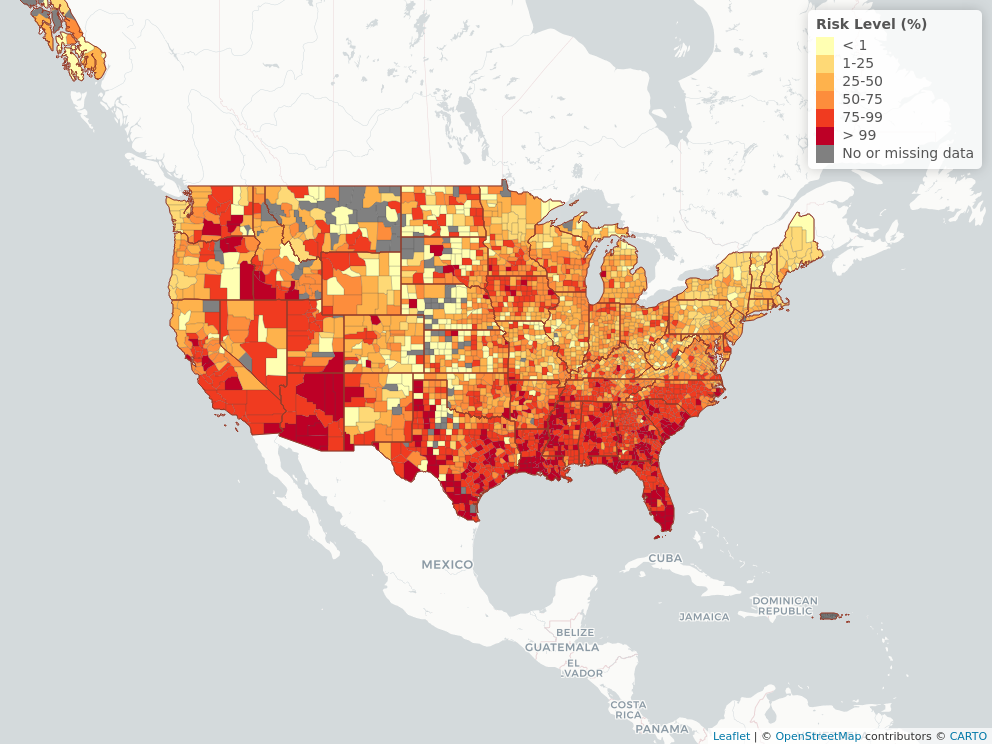 This map shows the risk level of attending an event, given the event size and location.
The risk level is the estimated chance (0-100%) that at least 1 COVID-19 positive individual will be present at an event in a county, given the size of the event. Click on it to go to the calculator. Or go to https://covid19risk.biosci.gatech.edu/