July 15, 2021 The library is open
Safety Guidelines
Customers are encouraged to keep their visits as brief as possible. Face coverings are strongly encouraged, especially if you are not vaccinated. (Masks are available near the entrance.) Customers are asked to maintain six feet of social distancing. The library strives to serve everyone.
https://www.cdc.gov/coronavirus/2019-ncov/daily-life-coping/participate-in-activities.html.
The library will be open for in-library services without appointments during our regular open hours of Monday through Friday (9:30-6), Saturday (9:30-1). The following guidelines will be in place:
Face coverings are recommended (Masks are available if you forget yours)
Maintain six feet of social distancing as much as possible
25% Capacity
Please remember to bring your library card
Patrons who are exhibiting COVID symptoms should not enter the library building.
Computer availability is limited –
Wi-Fi is available inside and outside the building
Curbside service will continue for pick-up of library materials and assistance with copies faxes, and scanning documents for those preferring not to come inside
Princh printing available
The front book drop will remain open 24 hours a day Items are no longer being quarantined
Meeting rooms available for small group meetings
Toys and createspace activities will remain in storage at this time
Identifying known and unknown risks can help frame what you can and cannot control. You can control your personal mitigation measures. You can get vaccinated. You can monitor community transmission rates. Unfortunately, public settings that have lifted requirements for masks and other risk mitigation measures present unknowns. Risk tolerance varies from person to person and situation to situation. In addition, not everyone has the privilege to avoid higher risk situations…
Navigating the reopening of public places with un-vaccinated kids is really hard.  Breathe, reflect, and go slow.
More information follows: 
What Can You Do?
Wash your hands thoroughly and often, stay home with a good book if you are experiencing any signs or symptoms and be social at a distance.  Remember you can access digital materials using your library card through MORE & Libby.
What is the SCFPL doing?
Along with regular inside service, the St Croix Falls Public Library is providing low contact curbside services, virtual services, phone and email services. Staff is in the library Monday through Friday and Saturday mornings. Available to take your phone call or email. We are now offering printing from your device using princh. Find out more at here.
Our goal is to keep library staff and patrons safe from communicable disease and to mitigate the occurrences of unnecessary exposure and spread of infectious disease. We will continually evaluate the situation.
— available to answer the phone 715-483-1777 or email scflibrary@scfpl.org, or use curbside@scfpl.org if you have questions about accessing the digital collection, questions on summer reading programming, or have special circumstances and in need of assistance.
New library policies relating to Epidemics and Covid-19:
Epidemic and Library Health Emergency Policy
Covid Specific Public Library Personnel Policy
Covid Specific Public Library User Policy
Please practice kindness and common sense during this time of uncertainty.
Thank you
Polk County Data Dashboard: 
This dashboard provides real-time information, adapts over time, and is readily available. Be sure to bookmark this link to view Polk County related Covid-19 data at your convenience: https://arcg.is/1bmeOm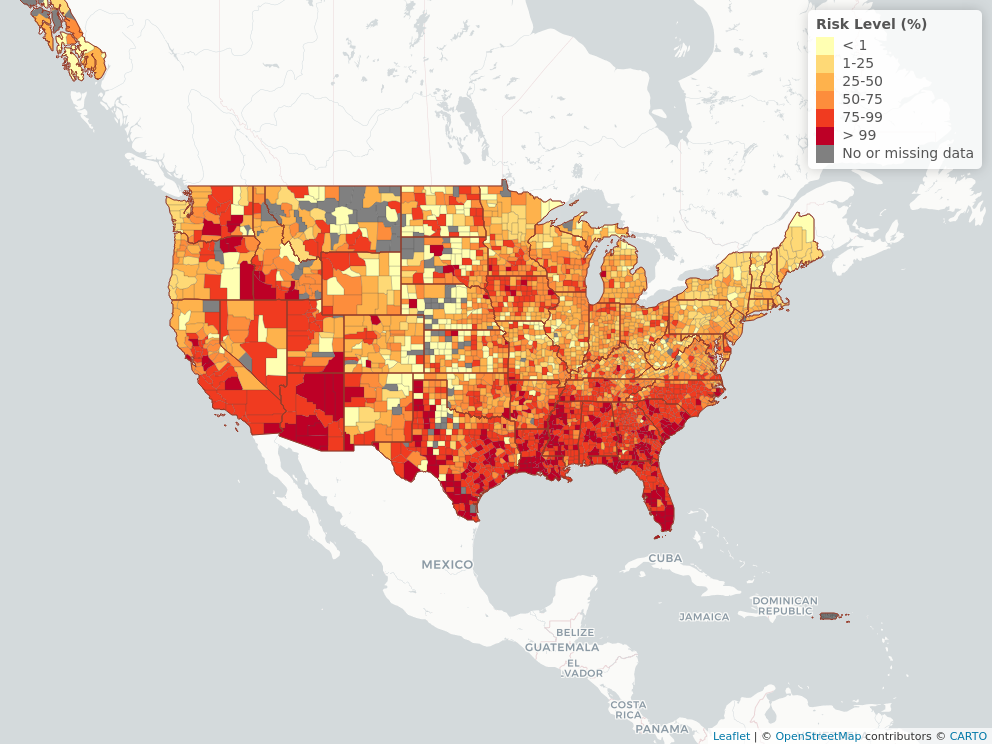 This map shows the risk level of attending an event, given the event size and location.
The risk level is the estimated chance (0-100%) that at least 1 COVID-19 positive individual will be present at an event in a county, given the size of the event. Click on it to go to the calculator. Or go to https://covid19risk.biosci.gatech.edu/